Emily McCoy
Licensed Clinical Professional Counselor (LCPC) Provisional Registered Art Therapist (ATR-P)
Psychotherapist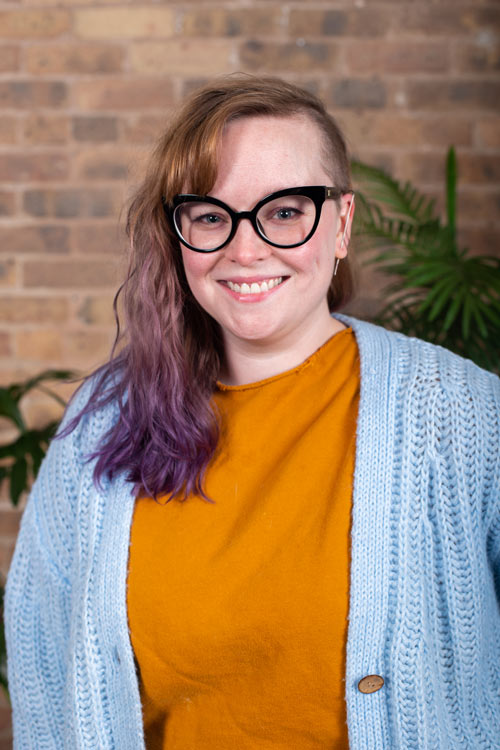 Licensure:
LCPC, 180013498, Illinois Department of Financial and Professional Regulation, 2018
ATR-P, 20-137, Art Therapy Credentials Board Incorporated, 2020
Degrees:
MA, Adler University, 2018
BA, Columbia College Chicago, 2016
Certifications:
Certified Clinical Trauma Professional, Evergreen Certifications, 2021
Sometimes it may feel like the day has been a struggle to survive. Overwhelming emotions and feelings of fear can prevent us from leading our lives fully. I believe that taking time to learn more about ourselves and intentionally increasing our feelings of safety can allow us to activate our natural ability to heal and take us on a journey towards a life in which we are thriving.
I practice from a Person-Centered and Trauma-Informed approach, and as an Art Therapist and Internal Family Systems Informed practitioner, the ways in which we can collaborate to explore your different parts and systems are only limited by our combined imaginations. I am an interactive therapist, who strives to curate a secure and warm environment where we can explore your emotional health and identity with a gentle curiosity and in order to attend to internal conflict and identify areas of desired transformation. While working with our emotions can sometimes feel like an overwhelming task, I work to ensure that whatever path we take is tailored to your goals and managed at your pace. My experience has focused on working with folx who are working to navigate chronic anxiety, complex trauma, mood disorders, psychosis, reduced resources, and gender identity.
It is important to acknowledge that mental health is not just a reflection of our internal world, but also the result of our experiences while living within a colonized and capitalistic culture. As a white queer nonbinary trans person, I am continuously building my understanding of my own experiences of privilege and oppression, and I continue to work to gain knowledge that can assist me in collaborating with and supporting those who share aspects of my identity and those whose identities and experiences differ from mine. Exploring ourselves and attending to our needs takes work, but I believe that with empathy and curiosity- feelings of relief and a sense of balance are right around the corner.
Area of Focus & Specialization
Complex or Developmental Trauma & PTSD
Chronic Anxiety & Emotional Regulation
Bipolar Disorder & Psychosis
Suicidal Ideation
Identity Exploration, Development, & Intersectionality (including navigating gender, sexuality, non-monogamy, polyamory, microaggressions, disabilities, and advanced capitalism)
Trauma Informed Practice
Person Centered and Strengths Based Approach
Internal Family Systems Informed
Expressive Art Therapy
Mindfulness and Dialectical Behavior Therapy Informed
LGBTQIA+ and Gender Expansive Affirmative Practice
Intersectional Culturally-Affirmative Practice
Poly & Non-Monogamy Affirmative Practice
Sex & Body Affermative Practice