Our Philosophy
We are a community of diversely identified humans working together to enhance the emotional, psychological and spiritual well being of individuals, families, and communities, starting with ourselves.
Live Oak Theory of Change
At Live Oak, we believe that the practice of understanding ourselves is a critical component of the journey of supporting others in understanding themselves. We believe that in order to support our clients ethically, each staff member and trainee in our community must commit to an ongoing practice of investigating our socialization into the many identities and experiences that we are managing throughout our lives. This includes our identities and experiences related to gender, sexuality, familial roles, personal history, work roles, culture, race, ethnicity, religion, familial structure, spirituality, ability, body size, body experience, neurological experience, etc. We believe that we must both investigate our socialization into identities that hold privilege as well as those that are marginalized in the communities that we live within. The foundations of this practice are:
LGBTQIA++ Affirmative Practice
Intersectional Practice
Trauma Informed Practice
Self-First
Minimum Qualifications
Master's degree in Social Work, Counseling, Couples/Family Therapy, Art Therapy, Dance/Movement Therapy, Music Therapy or Master's degree in a related field and RYT or CYT credential.
Initial Clinical Licensure as an LSW, LPC, AMFT or licensed Clinical Psychologist within the state of Illinois.
One year of post-graduate clinical experience.
Demonstrated commitment to and experience in utilizing anti-racist and anti-oppressive frameworks within clinical practice.
Strong candidates will be able to articulate an understanding of anti-racist and anti-oppressive approaches to clinical work. Additionally, strong candidates will have prior experience engaging in anti-racist and anti-oppressive frameworks as applied to organizational culture (e.g., peer-to-peer relationships, within supervisory relationships, etc.).
Demonstrated experience and expertise in LGBTQ AFFIRMATIVE PRACTICE.
Strong candidates will have demonstrated experience in and ability to practice from a clinical lens that holds and affirms multiple, intersecting identities, especially at the intersections of sexuality, gender, race, culture, class, and relational diversity (polyamory and non-monogamy).
Strong candidates will have demonstrated experience in trans/GNC and non-binary affirmative practice.
Demonstrated expertise in at least two of the following clinical approaches and practice areas:
TRAUMA-INFORMED PRACTICE & APPROACHES

Strong candidates will have demonstrated experience in and ability to articulate their personal approach to trauma-informed clinical practice.
Strong candidates will have demonstrated expertise in a specific trauma-informed approach including, but not limited to: EMDR, Somatic Experiencing, Sensorimotor Psychotherapy, Internal Family Systems, Narrative Therapy, Sex Therapy, Dialectical Behavior Therapy (DBT), Acceptance & Commitment Therapy (ACT), etc.

CREATIVE/EXPRESSIVE APPROACHES

Strong candidates will have demonstrated experience in a specific creative/expressive approach including, but not limited to: Art Therapy, Dance/Movement Therapy, etc.

INTERSECTIONAL PRACTICE & APPROACHES

Strong candidates will have demonstrated experience in employing a systemic and anti-oppressive approach to clinical practice with specific attention to race, power, and privilege within the therapeutic dynamic/relationship.
Strong candidates will have demonstrated experience in and ability to practice from a clinical lens that incorporates a systemic understanding of any given client's presenting concerns, intersections of identify, and relational dynamics between the therapist and client(s) given the therapists intersecting identities, etc.
Strong oral and written communication skills.
Desirable Qualifications
Proficiency in more than one language (including English)
Group experience
Prior experience supervising and/or mentoring clinicians or interns/trainees
Prior experience providing psychological testing
Experience conducting clinical workshops and trainings
Responsibilities
To provide individual, couples, family, and group psychotherapy (minimum of 23 contact hours weekly)
To provide sliding scale fee services to 25% of overall caseload at the following rates: 2 cases at a rate of $35, 2 cases at a rate of $50, and 2 cases at a rate of $75-$90
To conduct workshops on selected topics relevant to and consistent with the practice philosophy of Live Oak, Inc.
To attend select training events provided by the directors or other contractual employees of Live Oak, Inc.
To attend all designated staff, community, supervisor, consultation, and supervision meetings.
To complete designated paperwork in a timely and accurate manner, as identified by the Clinical Director
Participation in 12 consecutive monthly trainings as a part of the Foundations First Friday series, beginning immediately following the start of the candidates tenure at Live Oak.
Developmental Opportunities
At Live Oak, all employees have the opportunity to engage in paid administrative projects and roles outside of assigned clinical responsibilities. These projects are co-identified by employees and Live Oak's leadership team, and employees are provided individualized mentorship related to developing administrative skills in areas such as: policy and procedure development; project management; data collection, management, and evaluation; quality improvement; and program development.
All employees are provided opportunities for promotion throughout their tenure at Live Oak. Given the organization's commitment to cultivate a culture that embodies our core values and clinical approach, all supervisory and administrative roles are filled from within the clinical staff, and employees can be mentored into specific roles over the course of time in alignment with their individual strengths.
Compensation
Compensation is commensurate with experience and expertise.
Employees are paid on a monthly payroll schedule.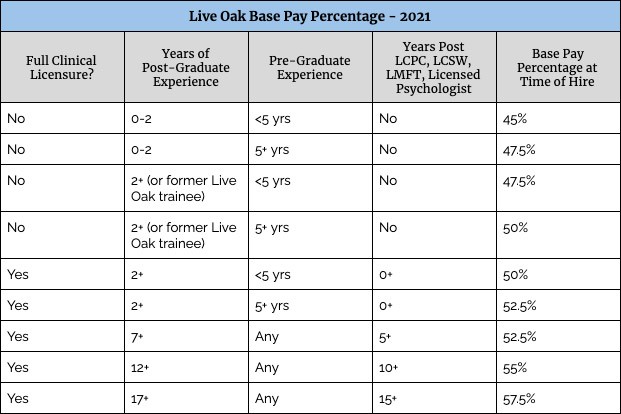 Benefits
When eligible, health insurance and 401K plan available with employer contribution
Health, dental, vision insurance – 60% of premiums paid by Live Oak
Collaboration and consultation with experienced mentors
Weekly individual supervision
A working environment that values diversity and the strength that comes from difference
Attendance at any Live Oak sponsored training event at no cost, space allowing
User friendly and comprehensive electronic health records system
Administrative support/Office manager support
Paid Time Off: Employees are encouraged to take vacation days throughout the year. Scheduling time off is done with the approval of each employee's supervisor. Paid time off is dependent on years of service (see table below):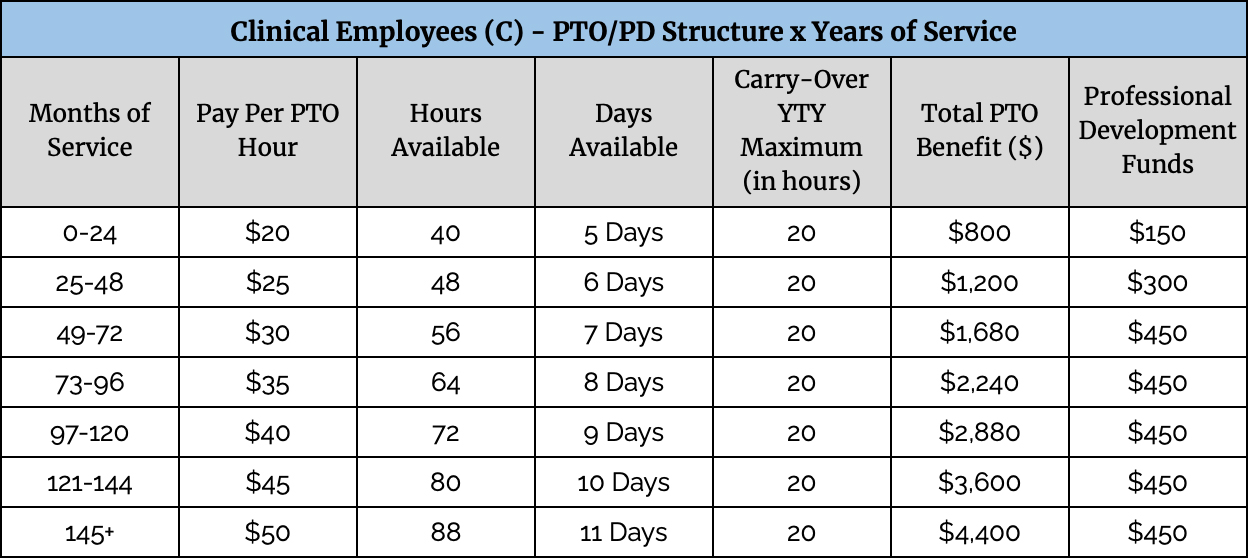 To Apply
Please send a cover letter and resume to our Recruitment and Hiring Manager, Sakina Levin at employment@liveoakchicago.com. Openings are available throughout the year and applications are considered as they are received.