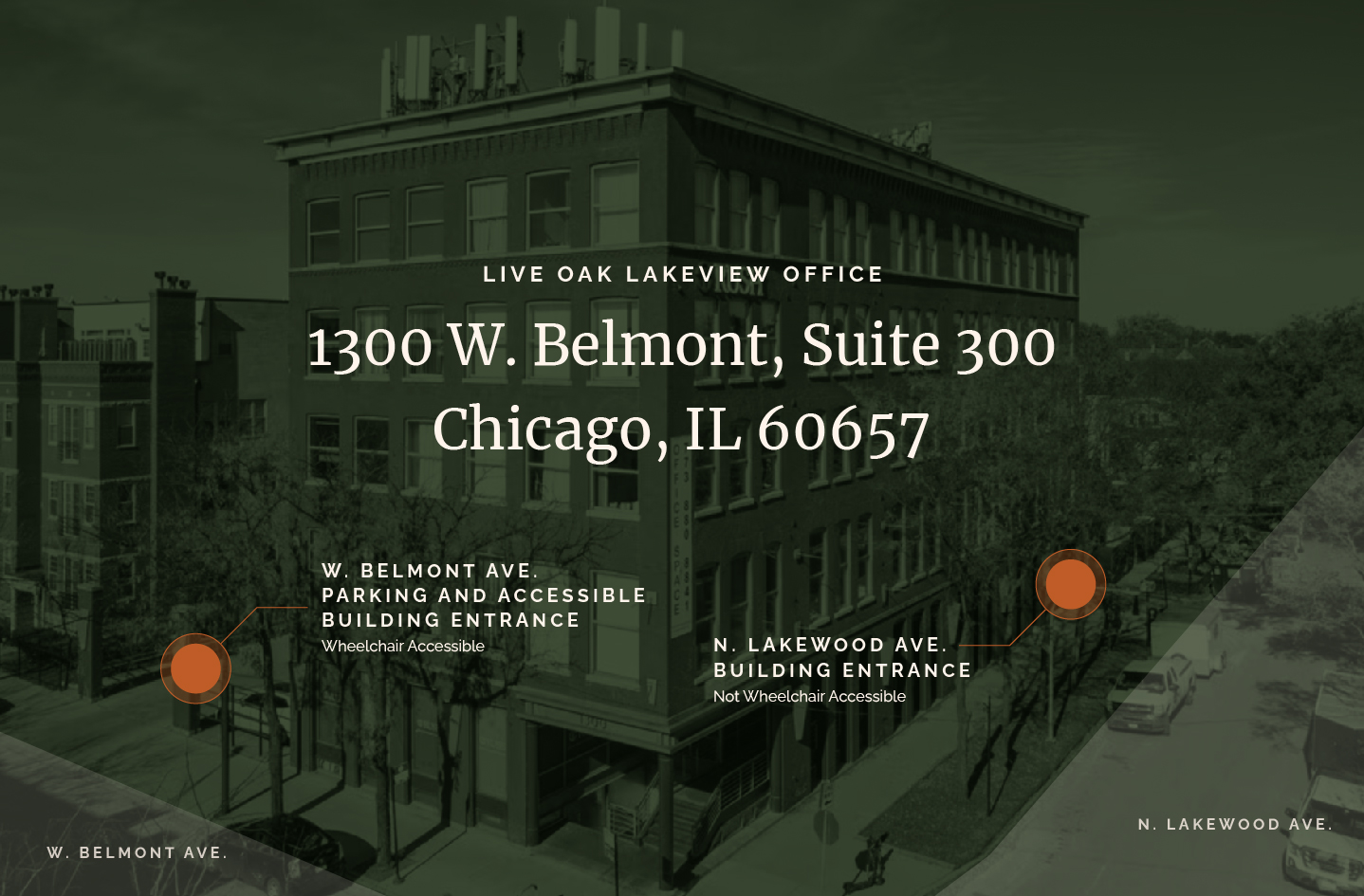 Live Oak is located at 1300 W. Belmont Avenue on the third floor. There are two entrances to the building, one on Lakewood (the east side of the building) and one on the west side of the building facing the parking lot. The entrance on Lakewood (the east side of the building) has 5 stairs and is not wheelchair accessible. However, there is an accessible entrance with a wheelchair ramp located on the west, parking lot side of the building very near to the alley. You can access that entrance by entering through the parking lot entrance located off of Belmont, or by going through the alley on the northside of the building. The entrance is on the Northwest side of the building.
Once inside the building, you enter an open lobby. There is an elevator on the North side wall. We are located on the third floor. Once off the elevator, there is a small bridge to walk across, and about 12 feet from the elevator is the door to our waiting area. Once through the door there are chairs and couches straight ahead.
COVID precautions
We do ask that all folks wear masks in communal spaces. We have masks available for your convenience. They are located to the left after entering through the door into our waiting room on a sideboard. There are also packets of hand sanitizer next to the masks. The HVAC ducts connect to all offices. Air is shared from office to office with no ventilation outside of what the HVAC system provides. Windows may be opened at client request.
Restrooms
Our 2 restrooms are all-gender-inclusive restrooms. To the right of the waiting area is a hallway, the restrooms are located toward the back of that hallway on the right. The one on the right has a urinal and an accessible stall; the one on the left has 2 stalls, one that is accessible. The right restroom doesn't need a key to open. The left restroom needs a key to open, they can be found in the waiting room or resting on the water fountain that is located on the wall between the restrooms. Both restrooms have complimentary sanitary products on the counters for your convenience.