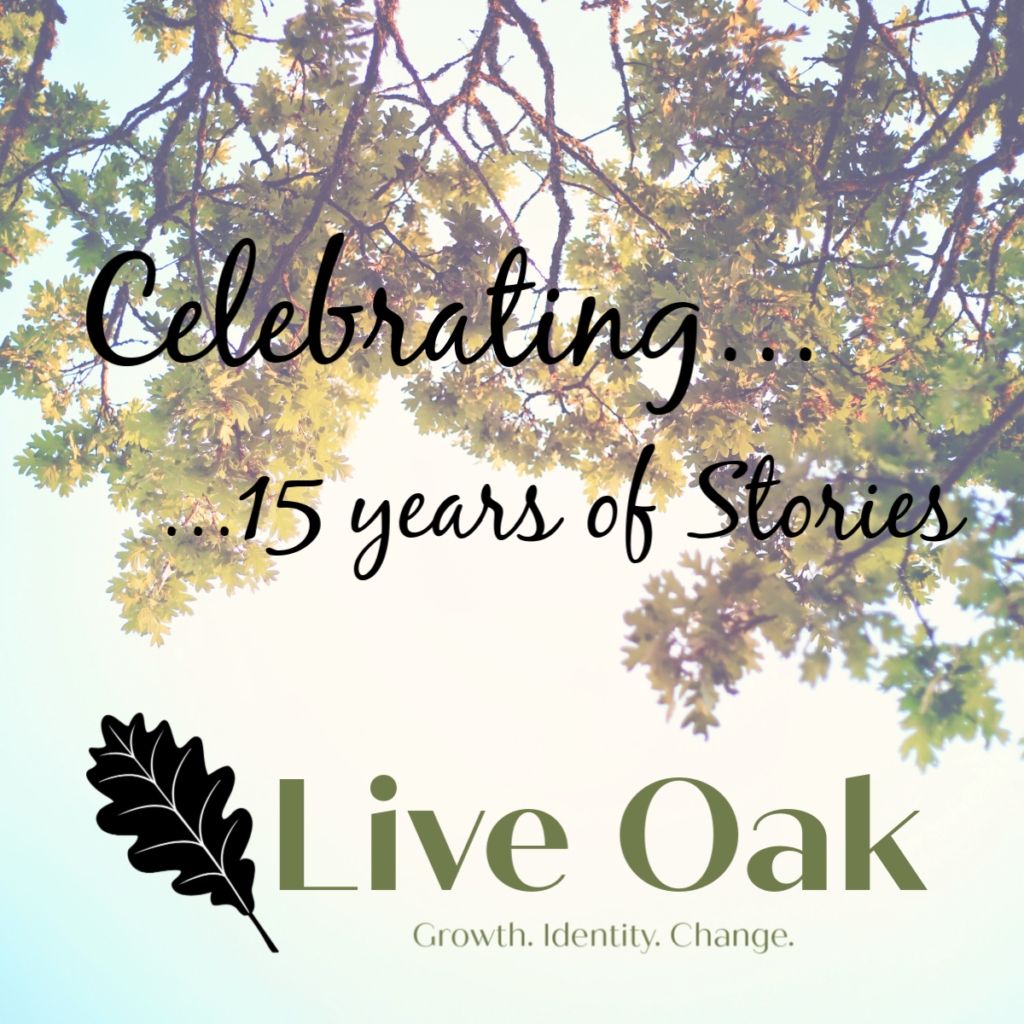 Dear friends and colleagues,
I am writing to you on July 20th, 2019.  Today is exactly 15 years from the day that Bruce Koff and Jeff Levy incorporated Live Oak as a business.  What started as an organization of 2 therapists and co-owners, has grown into a clinical practice of 25-35 largely full time staff members, a yearly cohort of graduate interns and post-graduate fellows, a yearly cohort of affiliate therapists, a Live Oak Foundations Training Program, organizational consultations, workshops facilitated on-site at Live Oak as well as those throughout the community, and hundreds of thousands of hours of psychotherapy sessions.

Some of the primary goals of our founders were to develop a practice that treats the effects of trauma and marginalization. To this day, these goals are at the core of our clinical practice and training program.

Today, I'd like to offer a note of gratitude. 15 years is not only a collection of days and years. In those 15 years, Live Oak staff members, trainees, consultants, affiliates, and clients have vulnerably leaned into the difficult work of entering into a relationship with each other in hopes of growth, identity exploration, and change. Each one of us has been impacted by this work. As therapists, we can't unknow what we've learned. We can't unwind ourselves from the stories of the people that sit across from us. We've become a part of those stories, and those whom we serve have become a part of our stories too.

To the Live Oak therapists of past and present, I'd like to share how in awe I am of each of you. As a collective, I've learned from you to be more fully myself. I've learned that I am a better business owner, therapist, supervisor, consultant, friend, colleague, peer, partner, parent when I connect with my own knowing and enter into relationships and interactions from that place. On a one-on-one basis, I've learned that when you are supported in listening to your own knowing, in sharing that knowing with me and others, that we have everything we need to be better.

To our broader Chicago community, I have learned from you that our organization is a system that exists within a white supremacist, heterosexist, ableist, sexist, capitalist society. I've learned that our organization enacts the micro and macro aggressions of the broader society. But I've also come to understand that by being honest with ourselves about the ways that we cause injury, we have the chance to learn from the harms we've caused and create an organization that apsires to be anti-capitalist, anti-racist, LGBTQ affirmative, affirmative of diverse abilities and disabilities, affirmative of all body types and sizes, and affirmative of difference. Together, we can learn to interrupt the –isms– that we are all vulnerable to perpetuate personally and organizationally.

To the clients who allow us to enter into space and relationship with you, please know that you have changed who we are. Speaking for myself, I'll say that my relationships with each of you have taught me that making mistakes is a necessary and critical part of entering into the type of vulnerability that cultivates growth. I've learned that the most beautiful moments in our work together can come out of making mistakes, really listening to and hearing the effects of my own errors, and coming together to choose a path ahead.

To our co-founders, as an organization, we benefit from the privilege of flexibility to experiment, to make mistakes, to learn and grow, and to be in the process of becoming. These privileges are the result of your logistical, clinical, and emotional labor. Live Oak was clearly a labor of love for you both, and that love shows up in our trauma-informed approach to the work, our LGBTQ affirmative model, and our understanding that we are constantly growing, shifting, and changing. We would not be where we are if it weren't for the personal sacrifices that you made to get Live Oak to where it is today. Speaking for myself, I am forever grateful.

Thank you to all who have participated in any way in our 15 years of time together. In celebration of this noteworthy milestone, we'll be spending the next year collecting stories from anyone who wants to share about your experience with Live Oak. We welcome current and former staff members, trainees, consultants, interns, and clients to share their own Live Oak stories with us. You can do so by visiting the Tell Us Your Story tab on our website. We aspire to co-write the story of Live Oak through your shared experience and collaboration. We look forward to deepening our understanding of each person's experience of our organization for all the ways that we might have been a support and/or caused pain. Your story is important to us, and we look forward to learning from you.

In celebration of our 15th year, we will be making $15,000 worth of donations to non-profit organizations that share and emulate the values that are central to our practice. These donations will be made between now and the end of the calendar year. $1,000 will be made to The Wingspan Project (TWP), an organization founded by Jeff Levy. Among several programs, The Wingspan Project raises funds to cover the cost of counseling for those who cannot sustainability access services. We'll also be making a $1,000 donation to Rainbow Railroad, an organization with whom Bruce Koff works closely. Rainbow Railroad supports LGBTQ asylum seekers fleeing unsafe circumstances in other countries. The final $13,000 will be made to organizations identified by you (staff members, trainees, and clients). Over the next two weeks, we will take suggestions for Chicagoland organizations that would benefit from a $1,000 donation (please click here to make a suggestion). We will then create a survey for our community members to vote from, choosing the top 13 organization to whom we'll make a donation. Our goal is for these donations to support those who serve communities experiencing marginalization with a focus on those holding intersecting identities that experience oppression. This gesture is intended to be an expression of appreciation to you, our community, for all you've done to help us become who we are. We aspire to give back as much as we can to those who have been a part of the Live Oak story these past 15 years.
With Gratitude,
Corina Maria Teofilo Mattson
Live Oak CEO