Alex Hoffman
Licensed Clinical Social Worker (LCSW)
Psychotherapist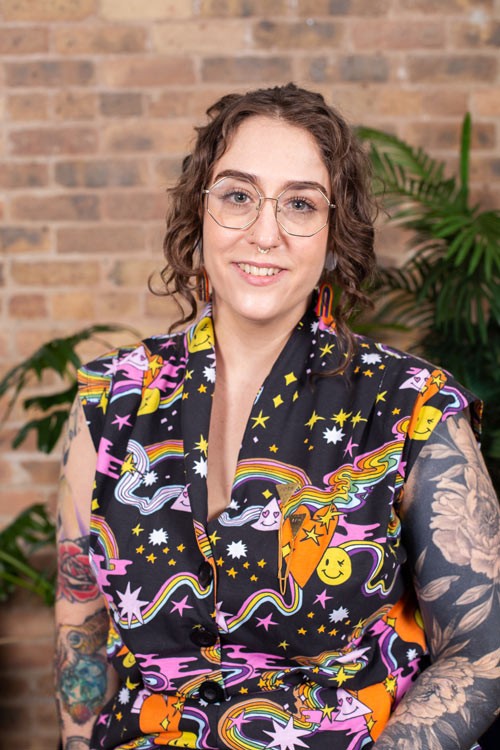 Licensure:
LCSW, 149.022691, Illinois Department of Financial and Professional Regulation, 2020
Degrees:
B.A., Agnes Scott College, 2013
MSW, Loyola University Chicago, 2018
As a therapist the values of radical empathy and compassion guide my practice. I believe my role in the therapy space is to treat folks who choose to entrust me with their stories as experts of their own lived experiences. I endeavor to dismantle the hierarchy of expertise wherein the therapist dictates what mental wellness looks like and instead work to co-create collaborative, meaningful, and honest relationships. I believe that it is in the context of these authentic relationships that folks are able to make the changes they seek and to take a critical look at what may no longer be serving them in how they are coping. I utilize a trauma-informed intersectional lens to implement approaches along the harm-reduction spectrum to support folks in creating relationships to themselves, other people, systems, and substances that are in alliance with their values and fit within their self-identified goals. As a nuerodivergent queer person I know how hard it can be to create community while maintaining a sustainable relationship to substances. I hold the conviction that a binary approach to treating substance use that pits harm reduction and sobriety as opposites is deeply flawed and ignores how all of the varied relationships in our lives are inextricably linked to one another, exert influence over one another, and impact our overall well-being.
Area of Focus & Specialization
Substance Use Concerns
Emotion Regulation and Distress Tolerance
Kink and Sex Positive Practice
Identity Exploration, Development, & Intersectionality
Depression, Anxiety, & Stress
Poly & Non-Monogamy Affirming Practice
Individuals (Adults and Adolescents 14+)
Relationships (triads, polycules, metamours, constellations, couples)
Families (chosen & family of origin)
Harm-Reduction
LGBQ+ and TGNC Affirmative Approach
Intersectional and Anti-Racist Feminist Practice
Client Centered, Insight Oriented, and Strengths Based Approach
Kink and Sex Positive Approach
Dialectical Behavior Therapy Informed
Acceptance and Commitment Therapy Informed